PaleOMG Align Program - Advanced (Gym Version) is a 12-week workout plan designed for busy people. I created this program to prove that you can get results from working out just 3x per week!
With 12 weeks of brand new programming, I'm going to ask you to maximize every workout to make the most of your gym time.
These workouts are fun, with a variety of movements that will always keep you challenged throughout. Better yet, you'll stay motivated with access to a private community filled with other advanced-level Align members.
You don't need to live in the gym to get the fitness level of your dreams. I can't wait to share my Align program with you!
Note: This program is a gym version of Align with advanced-level workouts. If you have limited equipment, check out my home version here!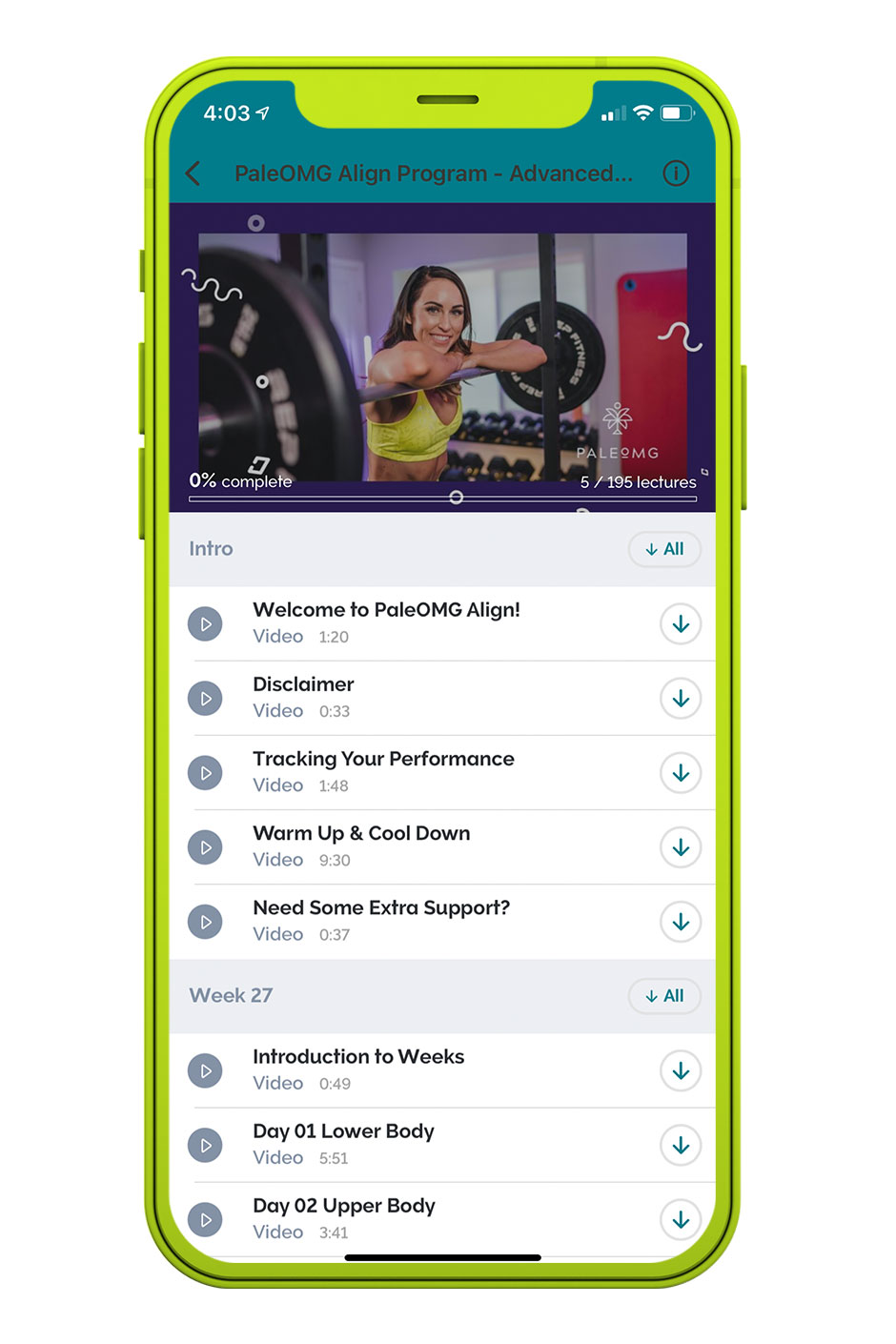 Hi! I'm Juli Bauer Roth!

👋



You might recognize me from my blog PaleOMG, or my dog Jackson from Instagram. 
I've been working out consistently for over a decade. Fitness is part of who I am. I have a degree in Health & Exercise Science, I was a certified personal trainer, I coached CrossFit for years, I competed in CrossFit, and I've tried just about every kind of workout there is.
From these 10+ years, I've learned what works, what doesn't, what leads to injury, and what leads to the best results. Through my three previous PaleOMG Power Programs, I've helped thousands of women improve their health, fitness, and confidence. 
Now, for the first time ever, I've created a program that proves you don't have to workout every day to get the physique of your dreams. I programmed Align to make the most of every minute so you can feel balanced, positive, and healthy!
We're going to have the best time! 🥳🥳🥳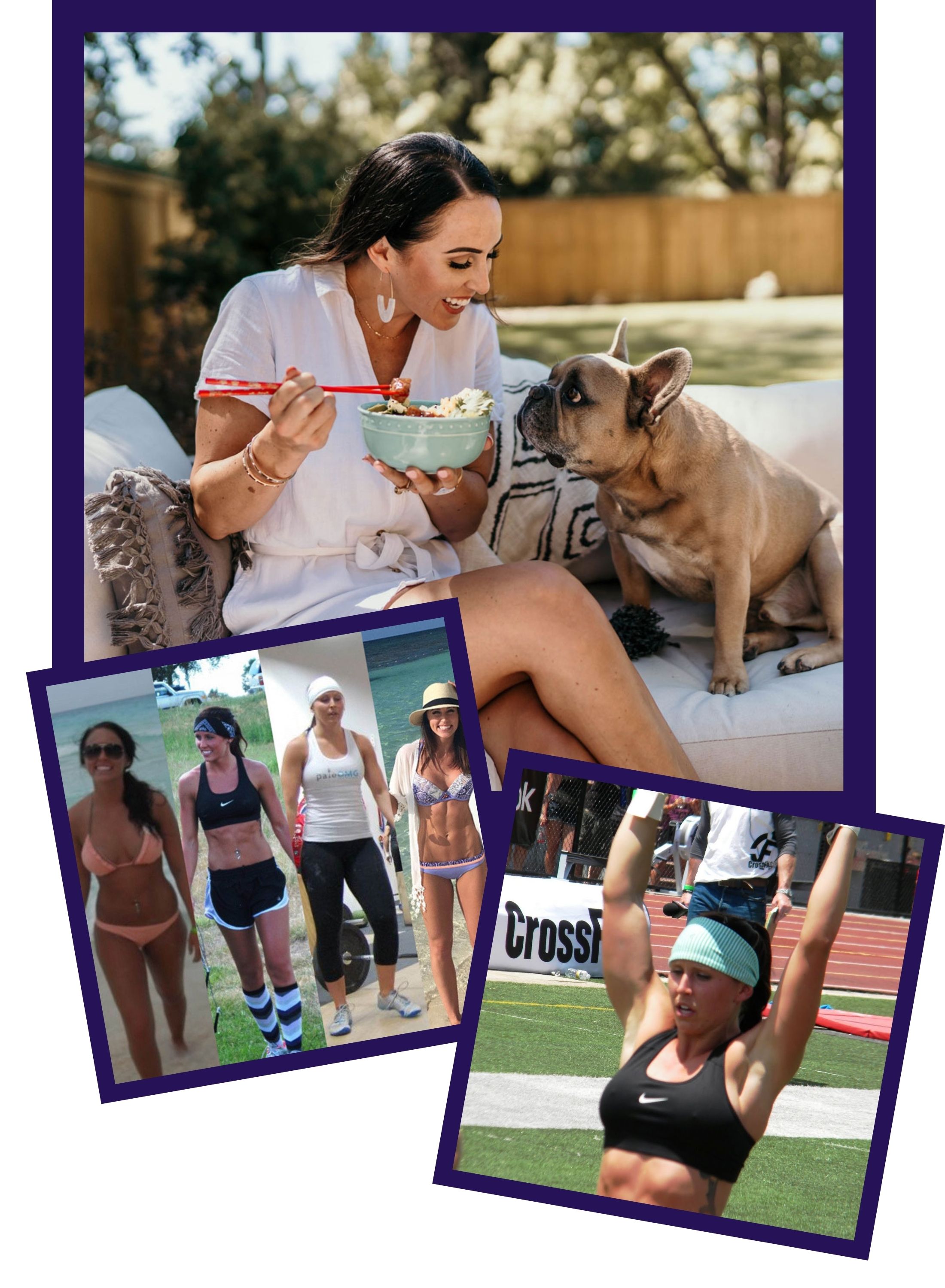 Join over 6,000 women who have gained strength and confidence 🤩
My PaleOMG programs help women gain muscle, shred fat, and—most importantly—find confidence!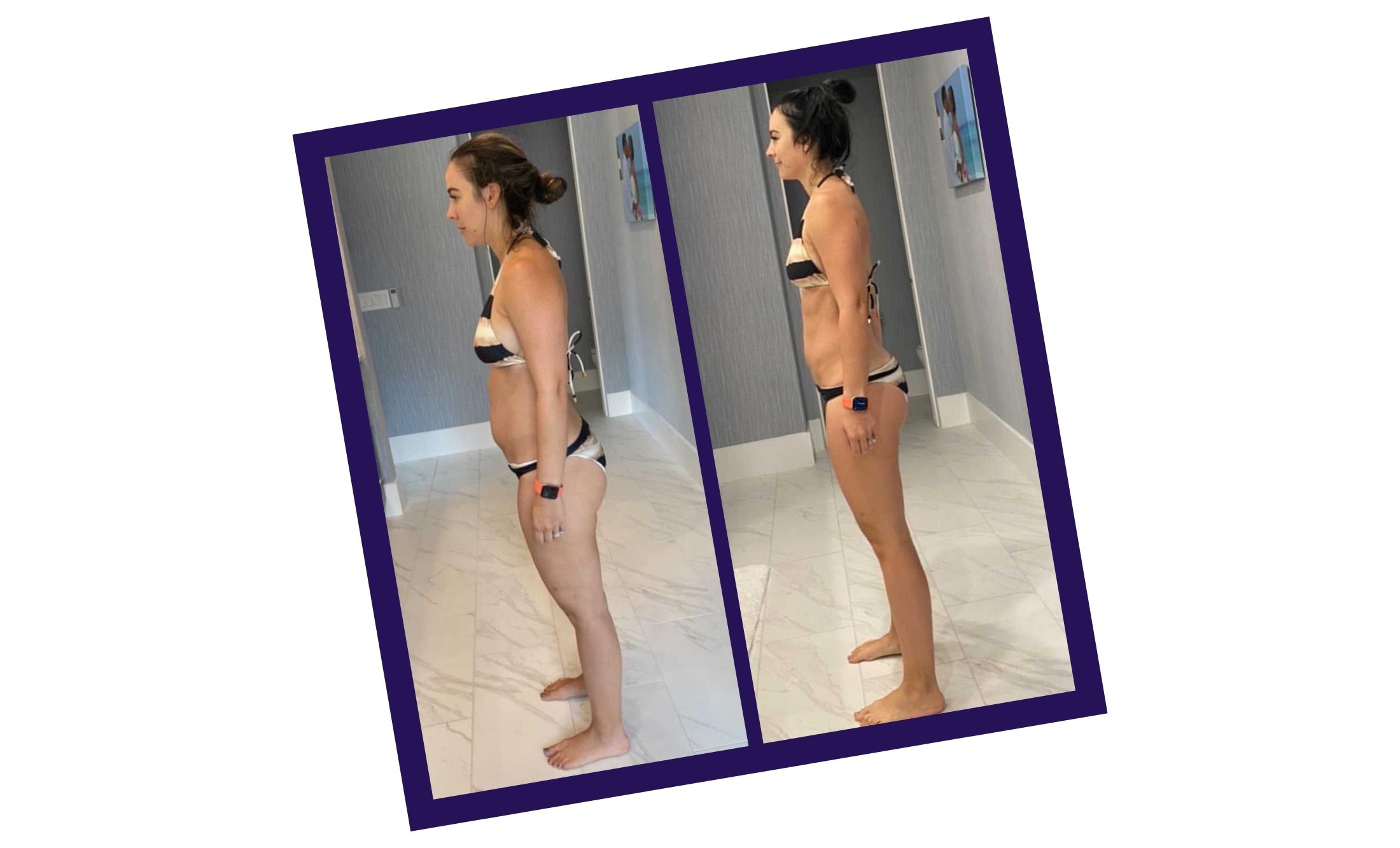 I'M STRONGER!
"I love your program and have only amazing things to say about it. With both of my kids I gained about 40-45 lbs and with my last baby I lost A LOT of strength and muscle. Since doing your program, my form has improved so much! I can lift heavier and feel better doing it. While I'm still not "there", I am starting to get to my pre-pregnancy body and it is super motivating to see my progress with your program. I'm almost wondering what the heck I'm going to do when I finish up the program."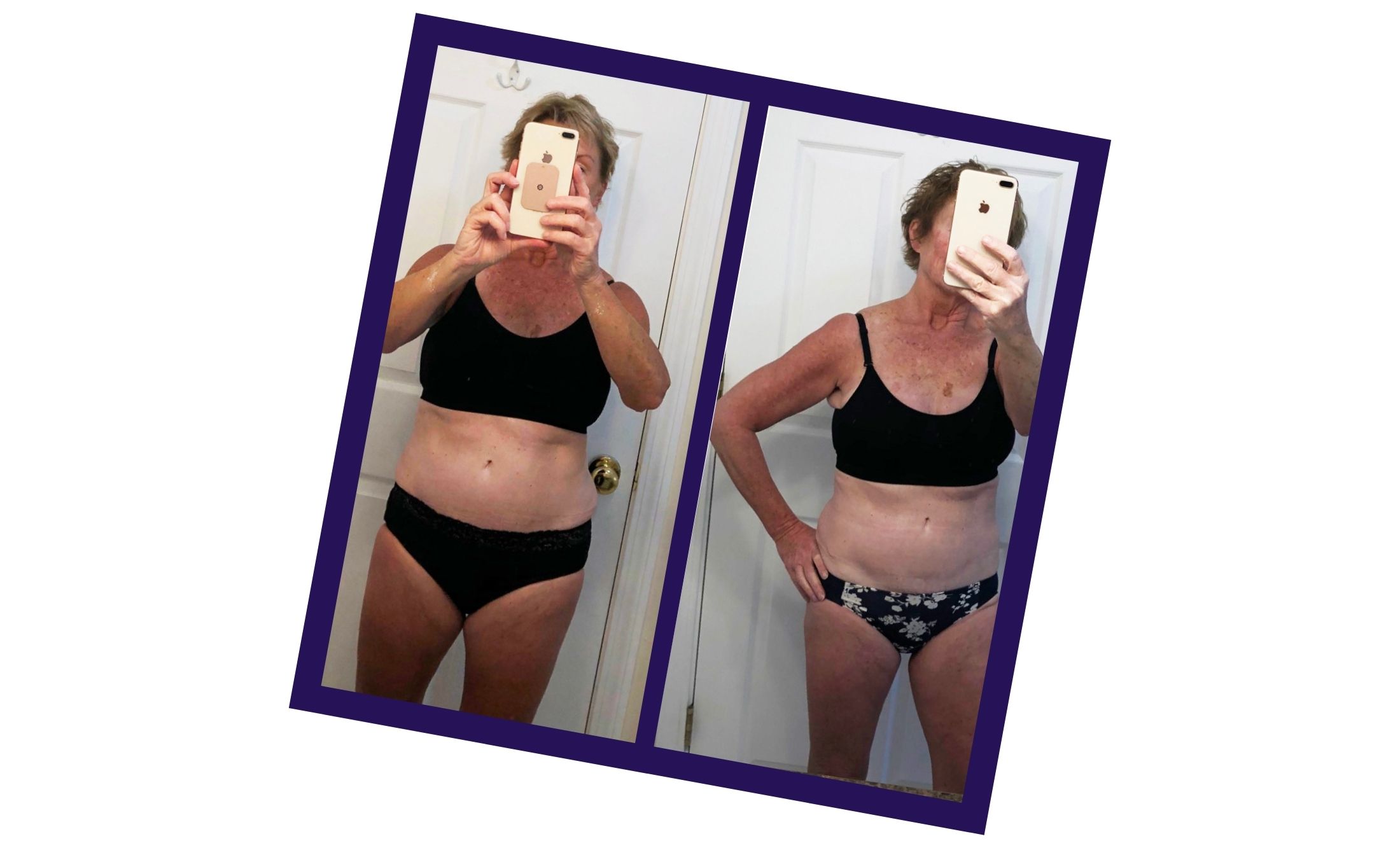 60 & LOVING IT!
"The progress I've made in strength and changing my body overall is so exciting! I didn't really change my diet as I eat clean, however, I did take out wine in the evenings(and feel so much better for it)! I am so grateful to have had this in my life. I am in my 60's and had a mastectomy 8 years ago. I never thought I could make this much of a difference in my body without starving. Love, love getting up every day and see what PB I can hit!! Thanks for all you do and keeping us fit esp in these crazy times!"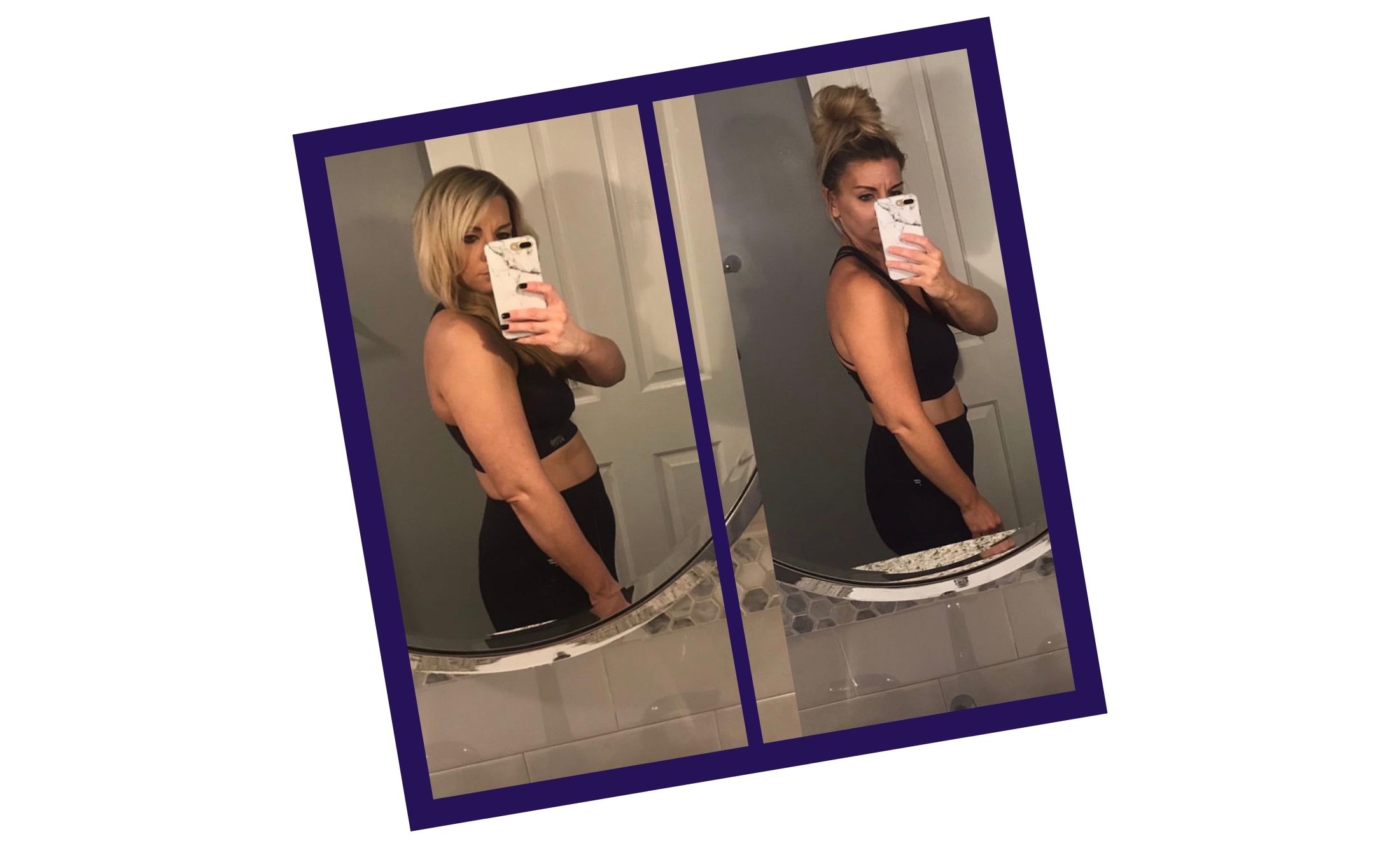 IN JUST 9 WEEKS!
"The length of the workouts is just right. I knew I wasn't going to be stuck in my basement gym for over an hour, but afterwards, I knew I had put in WORK by how I felt. I have a one year old who is very busy, and I was able to fit this in (and wanted to!) 4-5 times a week. When I'm working out regularly, I am much more likely to eat clean as well, and these pictures are a result of that too!"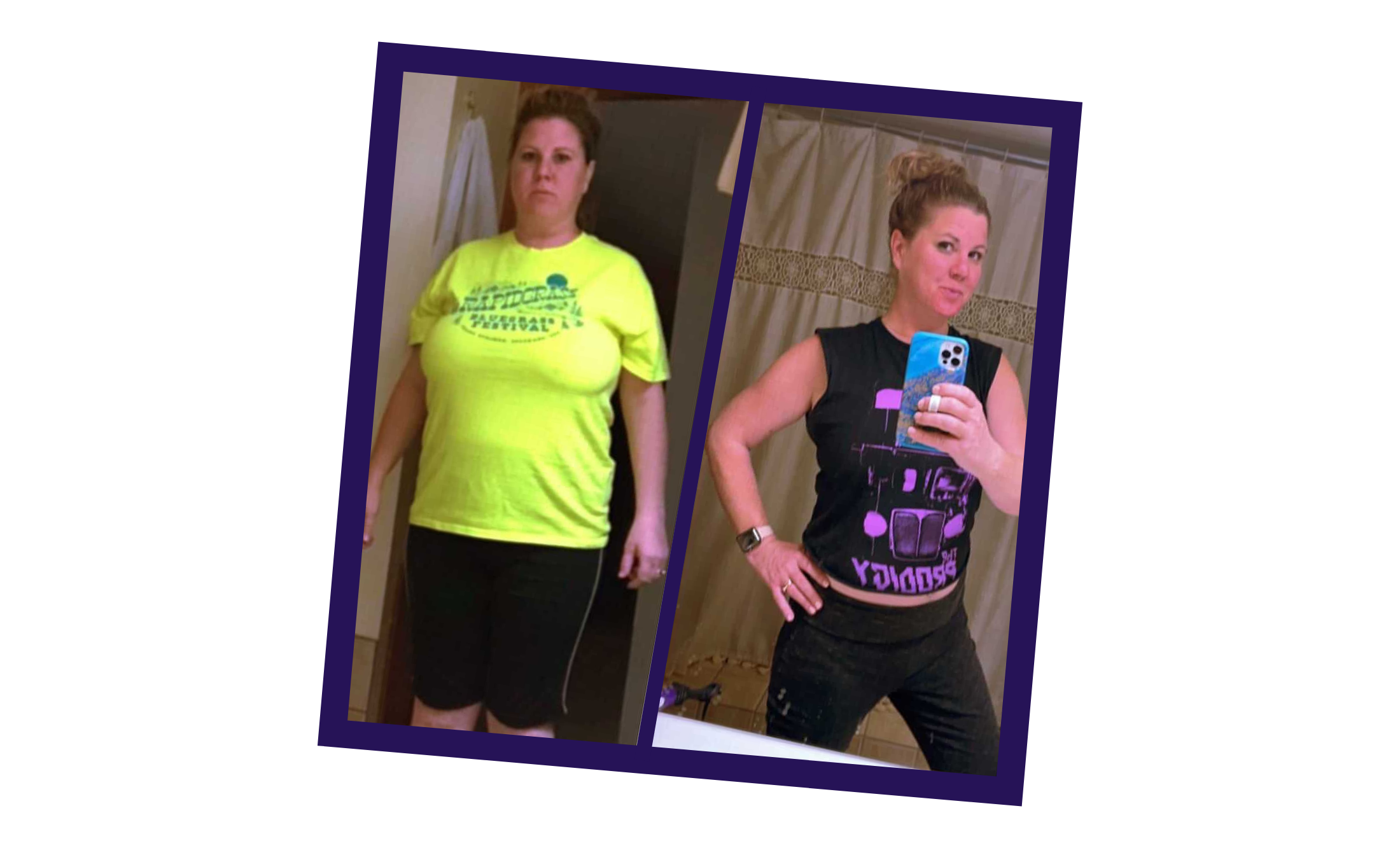 "I cannot believe the amazing results! In the beginning, I was so out of shape the warm-up felt like a workout, but I did what I could and just stuck with it (even if some days it wasn't pretty). Not only were the videos helpful for me to go at my own pace, but it helped me to not get discouraged by thinking I was "just doing it wrong or wasting my time". I feel stronger, more confident, and overall so much healthier. This program helped me to get out of my 'rut' and there's no stopping me now!"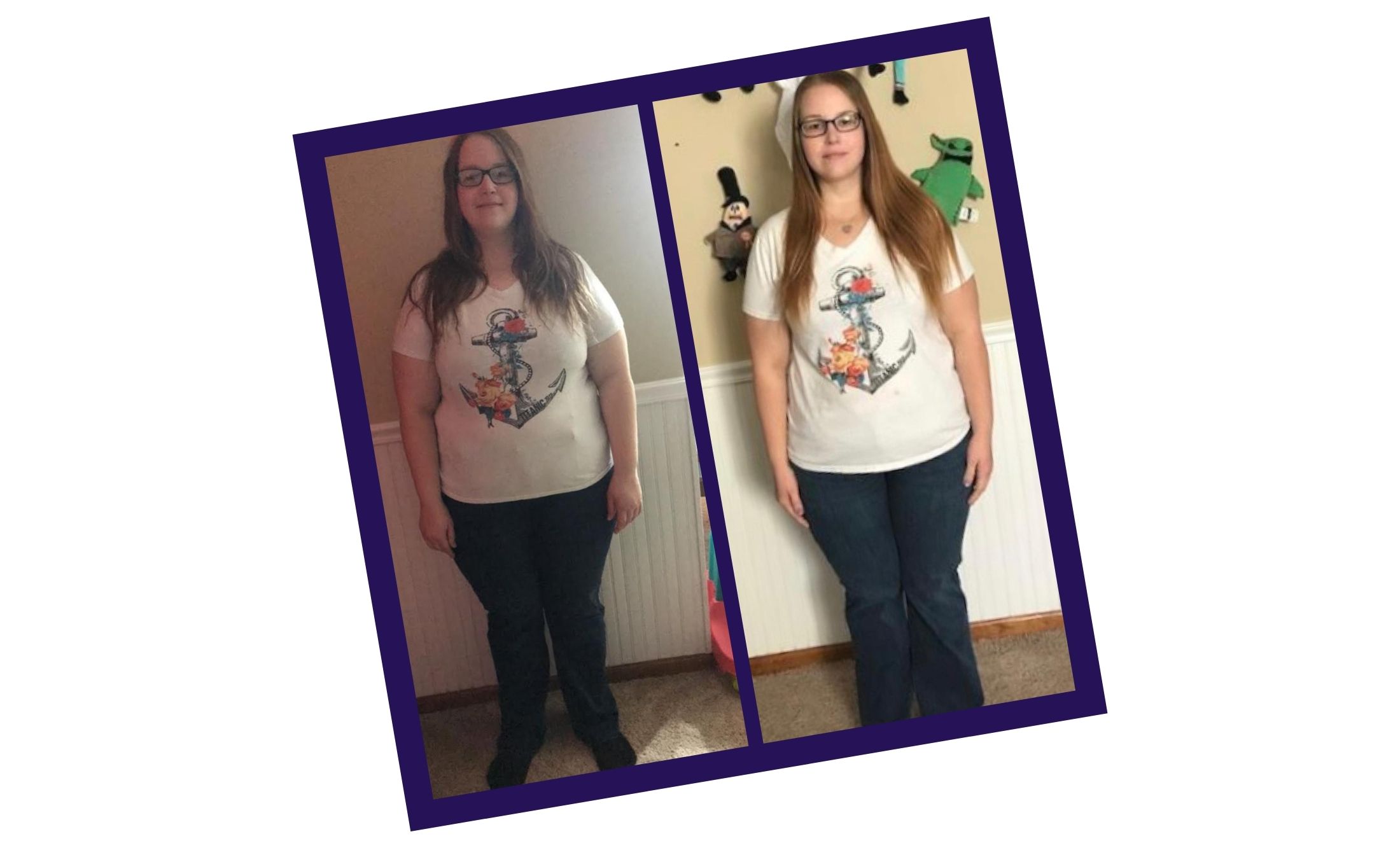 DOWN 40 LBS!
"So far I'm down 40 pounds and more to go. Basically I've been just eating better and doing your program over and over for my exercise. Despite only being able to work out from home, your program has helped me to not only lose weight but to get stronger and to feel better about myself. I never knew how much I was capable of before and I'm amazed at how much more I can do now!"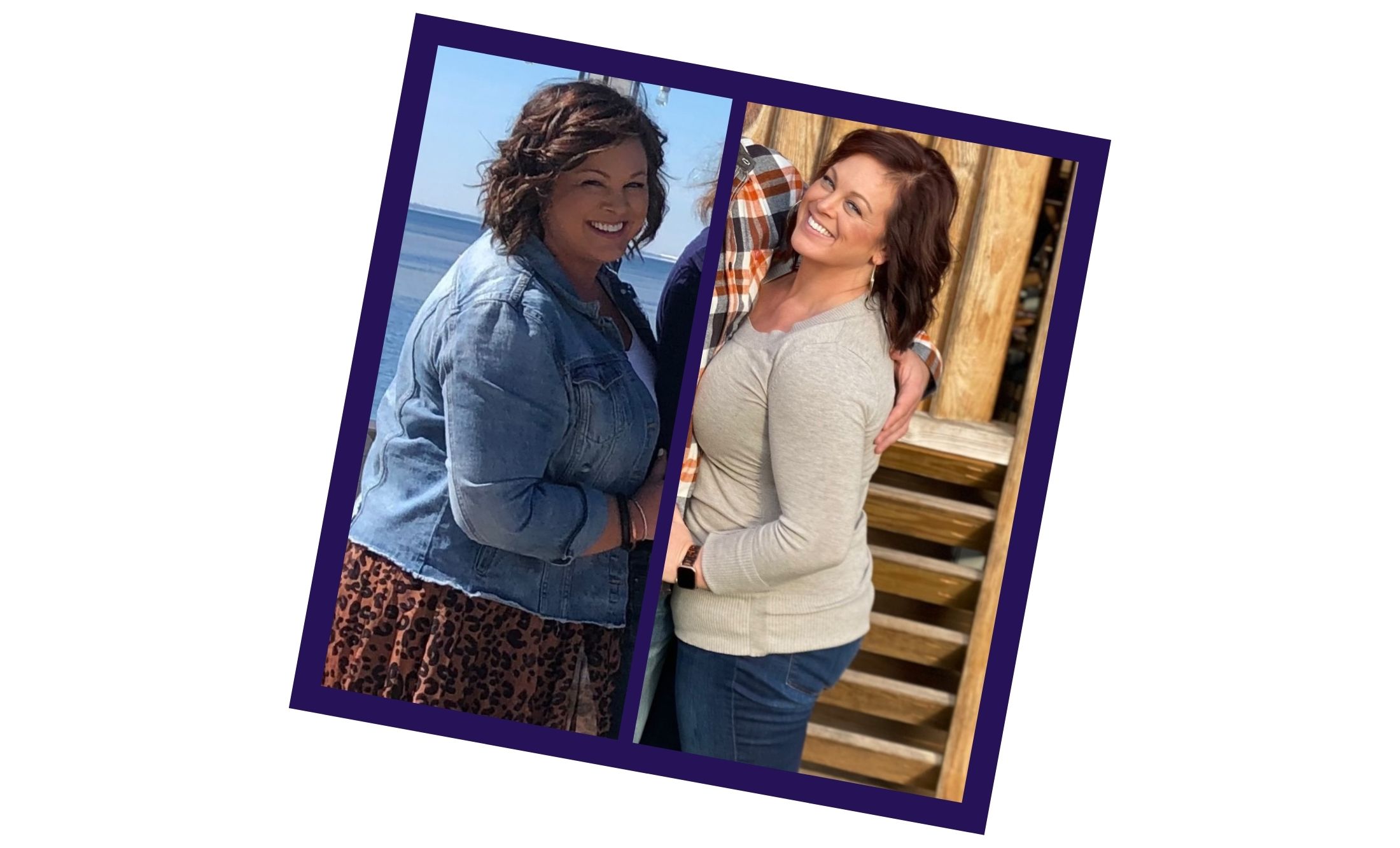 37 LBS GONE!
"I did the program first round in January, took a break, and just finished it the second time. 37 lbs gone! After my unexpected divorce, I lost not only my husband but my workout partner. I didn't workout for 2 years because I didn't want to go to the gym alone. Thank you for the Power program, I feel in love with working out again and I love it!!"
Here's what you get when you enroll in PaleOMG Align - Advanced (Gym Version)! 👏


LIFETIME ACCESS TO 12 WEEKS OF CHALLENGING WORKOUTS 
I'm going to ask you to work hard for each workout. You know why? Because you're a badass who will put in the work, that's why! You'll get out as much as you put in, and committing to this efficient program will get you results. 
3 WORKOUTS PER WEEK 
Align - Advanced (Gym Version) is based on athletic movements that keep your muscles guessing, which means that you'll push yourself harder every single week. This program has over 50 calorie-torching, muscle-building movements over a 12-week period, and in the gym version of this program, we're going to have fun with lots of different equipment! 
Over 12 weeks, you'll complete each programmed workout two times so you can measure progress. This will also help you nail your form, continuously stimulate muscle groups, and build the muscle you want! Here's an example of how the workouts are structured: 
Day 1 – Chest/Biceps/Quads/Glutes
Day 2 – Shoulders/Abductors/Glutes/Calves
Day 3 – Back/Triceps/Hamstrings/Glutes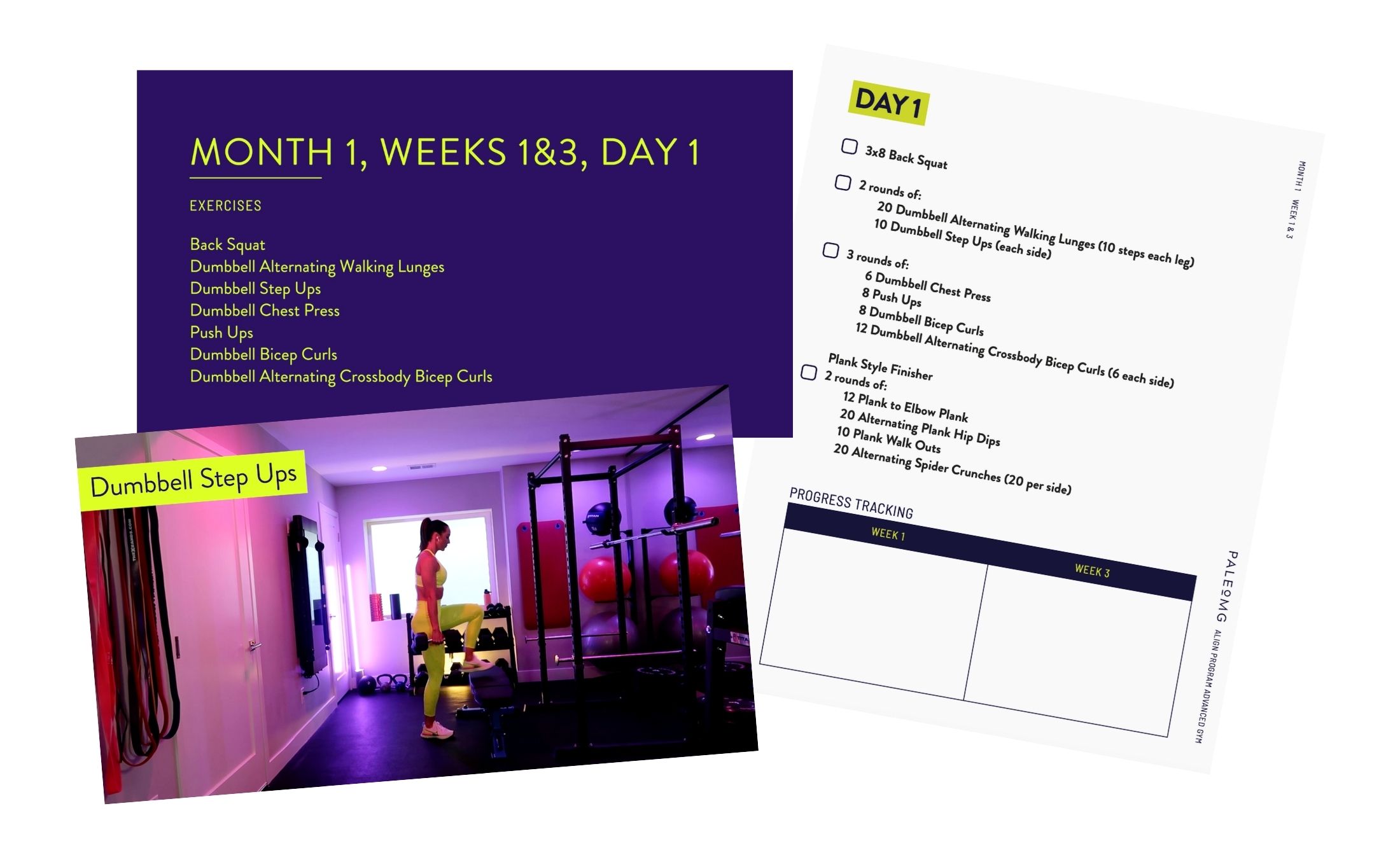 These workouts will spice things up while challenging your balance, coordination, and mind! 
I really don't care what days you workout each week, but I do care about one thing - making sure you don't stack them back-to-back. You want to make sure you get at least a day of rest in between your workout day!
MUSCLE-BUILDING MOVEMENTS WITH VIDEOS & GIFS
Before you begin each workout, you'll be able to watch a video of that workout's movements, done by yours truly. Some of the movements may repeat throughout the program, but each month will feel brand new! Each movement will also have its own gif, so if you're short on time, you can skip the video, watch the gifs, and get to work!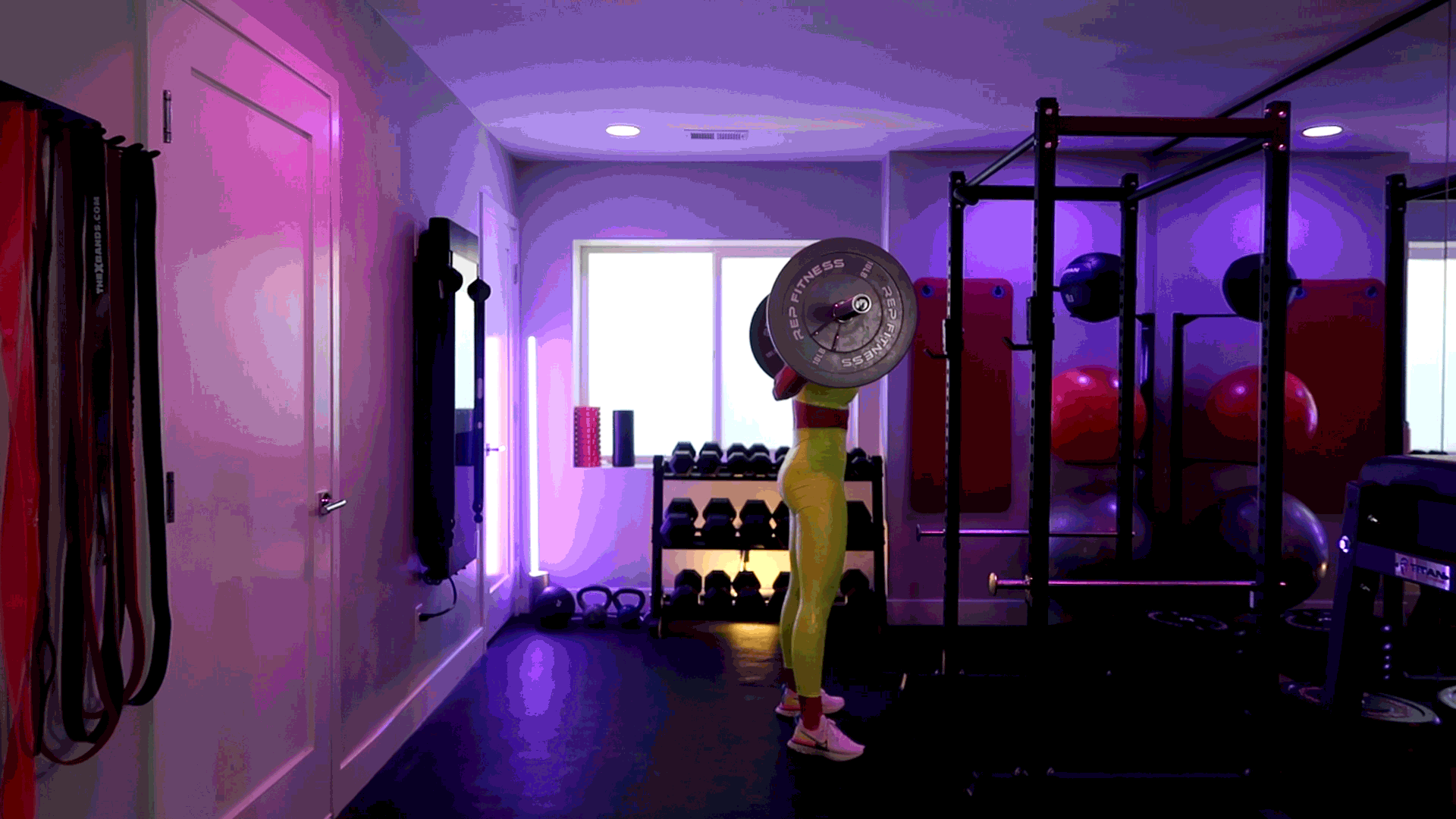 Back Squats GIF - Example
Total Stability Ball Russian Twists with Knee Tucks GIF - Example
PRIVATE ONLINE COMMUNITY & DISCUSSION FORUMS
Sharing progress photos on Instagram can be nerve-wracking, I get it! To help foster a positive community that motivates, I've partnered with Circle.so to create private forums. You'll be able to easily discuss each workout with other members, swap tips, share progress pics, and more! Beyond that, I'll be an active member in the community right there with you, so myself and other members will help push you throughout the whole program! 


PROGRESS TRACKING & GOAL SETTING 
Results are so much more than a scale. In PaleOMG Align Program - Advanced (Gym Version), you'll receive dedicated worksheets to track your weights and time for every workout! You'll be motivated to push yourself harder, lift heavier, and build some serious muscle!
OPTIONAL: LIMITED EDITION ALIGN & SHINE BOX
My first-ever collection of fitness products sold with a program!! I am so excited to present my Align & Shine Box with limited edition PaleOMG fitness items! As part of the optional add-on box, you'll receive: 
A laser-engraved PaleOMG Que waterbottle that compacts for easy packing on the go!
Gorgeous PaleOMG exercise fitness sliders to use with the program and challenge your core!
Custom PaleOMG fabric resistance bands that stay put when you work that lower body!
And (my favorite) a PaleOMG-branded jump rope to improve cardio and coordination!
The Align & Shine Box is my way of thanking you for being part of the PaleOMG community.
I want you to feel inspired and motivated whenever you see these items! (For contiguous U.S. only.)
Once you purchase the box, someone on my team will be in touch via email to confirm your address, and then we'll ship the items to your door!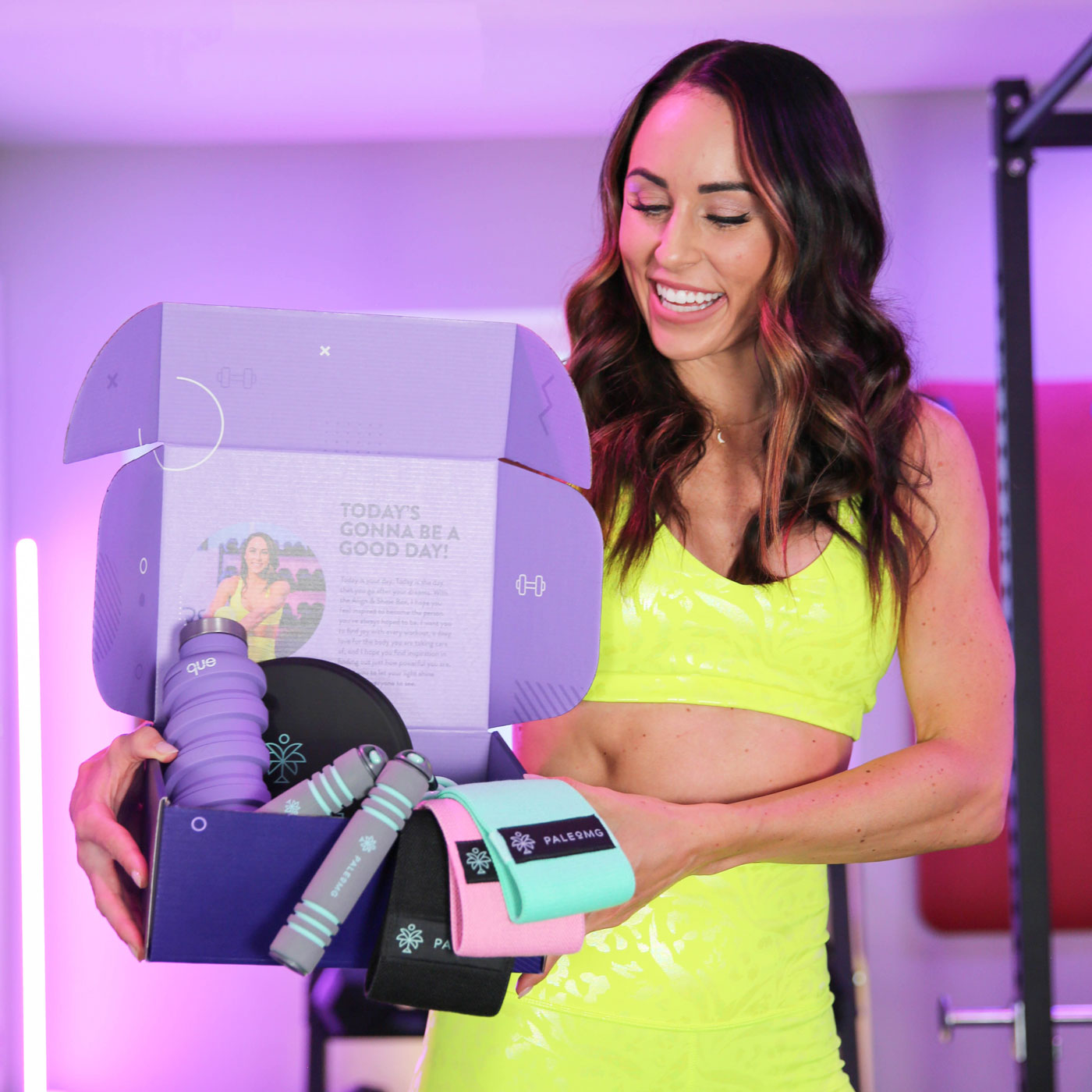 ONE-ON-ONE COACHING ADD-ON
Outside of our private community, all Align Program members will have the option to add on 30-min one-on-one coaching sessions with me for an additional fee! If you're feeling unmotivated, desire extra accountability, or want alternate movements, I'm here to help you cross that finish line!